Why am I feeling like this...
1. Stupid neck aching I can't turn to my left
2. Messy bad quality hair, something like lalang
3. Bad skin
4. Gained weight
5. Wanted to deco my new room in the new house but not enough money
6. Damn slow internet, downloading an important file running on 973 bytes/sec
7. Stupid windows Starter only allows me to open 3 types of document at once, wtf
8. Blog awards is near and I probably will be the most fugly nuffie.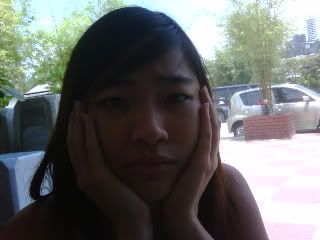 I gotten an injection last 2 weeks, due to gastric and diarrhea. Yea butt injection.
The dosage was that strong that I actually thought I am too sleepy and probably can't walk...
I was almost fainting...
So people, take care of your health, before you have faces like me.
The picture was snapped by my friend, saying that " Yea this is your sick face, better keep this in mind to remind you that you have to take care lah!"
Baaaah!